Want something changed?
Please let us know how to improve by emailing us at
lc@uwlax.edu
with your feedback! Thank you!


Caitlin Schneider
filed under: Maps




IMAGE CREDIT: 
LIBRARY OF CONGRESS


The first United States transcontinental road trip was completed in 1903, and Americans have been enamored with the open road ever since. The only thing more American than a road trip? A literary route celebrating American authors. The Library of Congress' Language of the Land exhibit collects bookish state maps that chart the regions and the writers who loved them, either through birth or discovery. 

1. ARKANSAS
2. ILLINOIS
3. INDIANA
4. IOWA
5. LOS ANGELES (NOT A STATE, BUT THE ULTIMATE DRIVING TOWN)
6. LOUISIANA
7. MAINE
8. MISSISSIPPI
9. NEBRASKA
10. NEW JERSEY
11. NEW YORK (THE CITY, NOT THE WHOLE STATE)
12. OHIO
13. OKLAHOMA
14. PENNSYLVANIA
15. TENNESSEE
16. VIRGINIA
17. WASHINGTON
18. WYOMING
April 14, 2015 - 8:00am

_______________________________________
Institute for Professional Studies in Education
ME-PD Learning Community Program
University of Wisconsin-La Crosse
College of Liberal Studies
1725 State Street
La Crosse, WI 54601
(608)-785-5087
A different type of literature map, but just as cool! Click on this lilnk to access the Gnod literature-map. This allows you to type in an author and visually find authors of similar styles. The closer two writers are in the map, the more likely someone will like both of them.  Very interactive! http://www.literature-map.com/henry+david+thoreau.html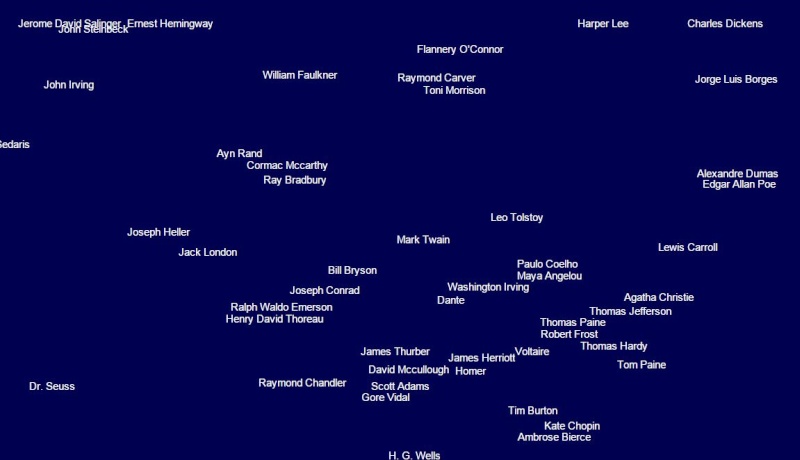 _______________________________________
Institute for Professional Studies in Education
ME-PD Learning Community Program
University of Wisconsin-La Crosse
College of Liberal Studies
1725 State Street
La Crosse, WI 54601
(608)-785-5087

---
Permissions in this forum:
You
cannot
reply to topics in this forum